Support EUC World. Become a Premium User!
Your support. My time, work, experience and knowledge.
Here's the recipe for the best app for your electric unicycle!
Thank you for using EUC World!
I am glad that you have chosen a popular and loved application that helps thousands of electric unicycle users every day. It is the choice of many riders around the world. It accompanies them every time they set off for a ride. It takes care of their safety, records unique adventures and lets enjoy the ride even more. It is probably the best-rated, universal application for electric unicycles. Created by EUC rider for EUC riders.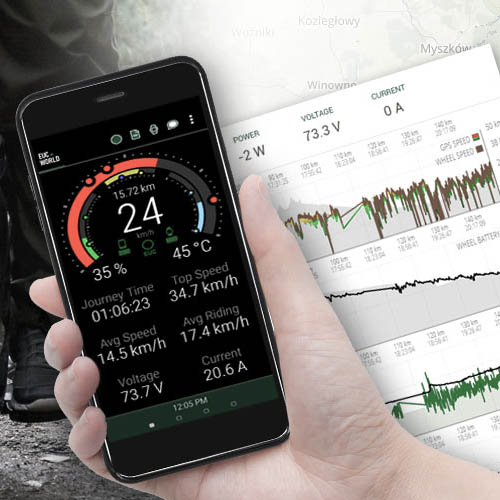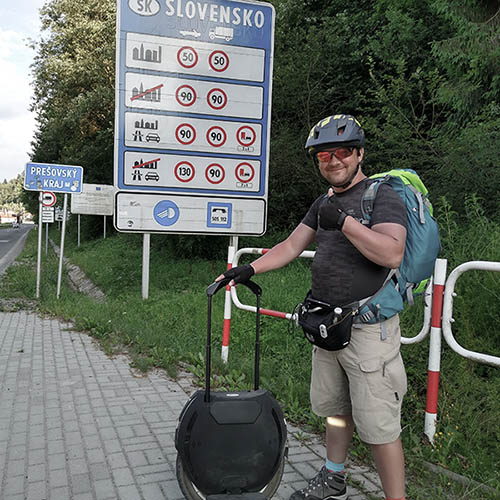 Can you believe there's one man behind all of this?
Here my two passions meet each other - EUC riding and software development. Every week I spend tens of hours working on EUC World, using all my knowledge and experience to give you best possible user experience. All this so that you can use a free, yet very valuable and reliable application. This is my gift for the whole world of electric unicycles. And I'm glad that EUC World serve entire community well.
Feature comparision
Find out which EUC World features are available free of charge to all users, and which are reserved for Premium Users only. Keep in mind that these are just some of the features of all that EUC World offers.
Regular
Premium

Support for all unicycles on the market

Support for all models of Gotway, Begode, Extreme Bull, Inmotion, King Song, Ninebot and Veteran unicycles.

✔
✔

Advanced safety features

Customizable alarms for exceeding speed limits, exceeding safe temperature, abnormal battery voltage, motor overload, low safety margin ("PWM") and more. Alarms can be felt as vibration and passed to Bluetooth spekaer, earphone or in-helmet communication set, so you can hear it even in a loudest wind noise.

✔
✔

Unicycle control & setup

Control the functions of the unicycle (e.g. switching the lights, controlling horn, etc.) and changing its settings.

✔
✔

Firmware update and downgrade

Support for easy and reliable firmware update and downgrade in supported Begode, King Song and Veteran unicycles.

✔
✔

Voice messages

Voice messages informing of current speed, distance traveled and providing other valuable information.

✔
✔

Smartwatch apps

EUC World has dedicated companion apps available for Pebble, Tizen-based and WearOS-based smartwatches (a more coming), so you can have most important data displayed on your wrist, with a phone securely stored in your pocket or backpack.

✔
✔

Data recording

Record detailed unicycle performance parameters to a CSV file, allowing for later data analysis and problem detection.

✔
✔

Data synchronization

Sends CSV files to your EUC World account, allowing you to easily manage them and view the data they contain.

✔

AVAS

A feature that emits sounds depending on the driving parameters and which allows you to simulate riding a motorcycle, driving a truck, piloting a spaceship.... and even riding on horseback! What's more, with a little skill you can create your own sounds!

✔

Tour recording

Record a tour with the ability to share it live, add photos and videos, and view key riding parameters, as well as detailed route statistics and comparison with other users' tours.

✔

Live weather information

Continuously updated weather information for the current location, analysis of the effect of wind on battery consumption and riding comfort, an indication of the perceptible temperature taking into account weather conditions, speed and direction of travel.

✔

Personal heatmap

A personal heat map depicting all the routes traveled and allowing you to discover new, not yet visited places.

✔

Personal statistics

Personal statistics that allow insight and evaluation of current and historical riding style, rider preferences, and comparison with other riders nearby and around the world.

✔

Advanced charging control

The ability to intelligently and securely control the charging process using any charger connected to a supported smartplug device. Automatic shutdown of charging when the scheduled charge level is reached, the ability to analyze the state of the battery in detail by recording charging parameters in a CSV file and on a graph.

✔

Dedicated support

Dedicated technical support, provided personally by creator of EUC World and covering not only the EUC World application, but also other issues related to electric unicycles.

✔
Enjoy all the features of EUC World. Become a Premium User!
Thanks to the support of Premium Users, EUC World can constantly develop to make sure that everyone can enjoy the best application designed for electric unicycles. However, only Premium Users can utilize the full potential of this application. Join them, support the development of EUC World and become a Premium User!
Just one beer a month.
Electric unicycles have never been cheap, and in recent times they have become increasingly expensive. Now no one should be surprised to spend thousands of dollars on a new wheel. So why to hesitate to spend just 25 EUR for entire year to support the development of an app that will take care of your safety and give you an even better riding experience?
I often get user responses like this:
- Sebastian, you've done a great job! Next time a beer is on me!
One beer a month is just like a 25 EUR a year. A year of benefits resulting from Premium User status - unlocked all EUC World extra features and priority support!