Support EUC World. Become a Premium User!
Your support. My time, work, experience and knowledge.
Here's the recipe for the best app for your electric unicycle!
Thank you for using EUC World!
I am glad that you have chosen a popular and loved application that helps thousands of electric unicycle users every day. It is the choice of many riders around the world. It accompanies them every time they set off for a ride. It takes care of their safety, records unique adventures and lets enjoy the ride even more. It is probably the best-rated, universal application for electric unicycles. Created by EUC rider for EUC riders.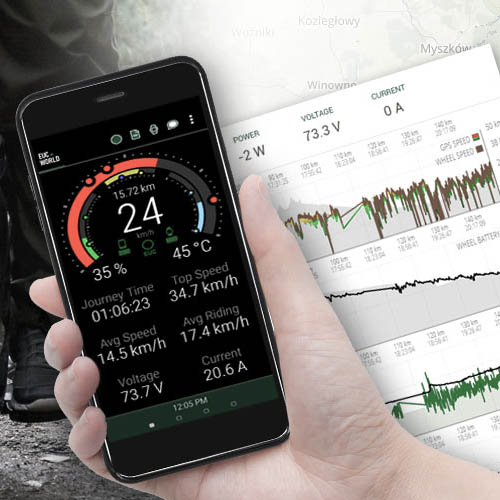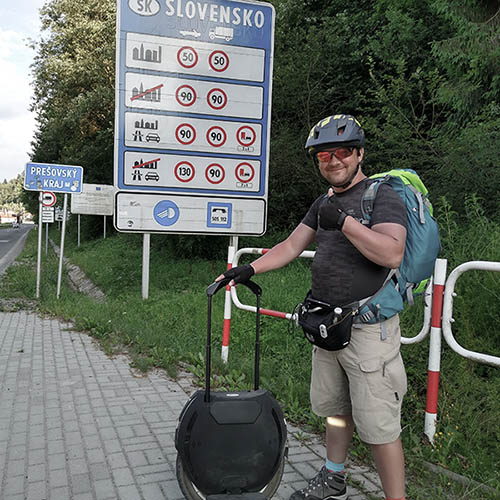 Can you believe there's one man behind all of this?
Here my two passions meet each other - EUC riding and software development. Every week I spend tens of hours working on EUC World, using all my knowledge and experience to give you best possible user experience. All this so that you can use a free, yet very valuable and reliable application. This is my gift for the whole world of electric unicycles. And I'm glad that EUC World serve entire community well.
AVAS, speedometer on video footage, charging control and more!
All essential EUC World features are available for anyone, regardless of account status. This is probably why most of users are happy with regular account. But there are also features that, while not being essential, will make your EUC experience easier, safer and more fun. AVAS, video camera with your wheel model name and speedometer embedded, intelligent charging controller that can be used with any charger and any wheel, personal heatmap that let you see the traces of all your tours at once… And with each release, more and more new Premium features are added!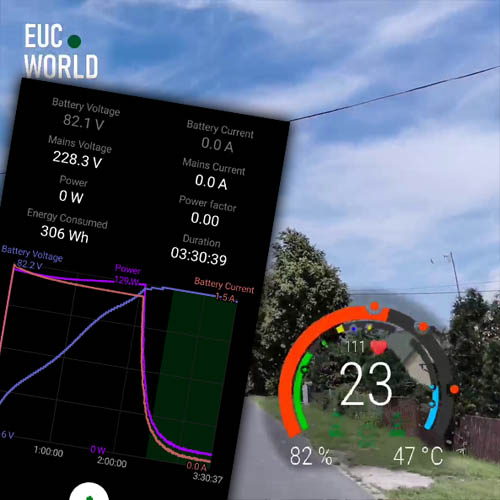 Just one beer a month.
While EUC World is free for everyone, project maintenance and development requires constant funding. Please, consider becoming a Premium User by making donation that will help cover development and maintenance costs. To be fair, validity period of a Premium account depends on amount of donation. Roughly, a donation of 20 EUR means a year of Premium account status*.
I often get user responses like this:
- Sebastian, you've done a great job! Next time a beer is on me!
One beer a month is just like a 20 EUR a year*. A year of benefits resulting from Premium User status - unlocked all EUC World extra features and priority support!
* Base currency for EUC World is Polish Złoty (PLN). Every 1 PLN of donation means 4 days of Premium Account validity. Because exchange rates are constantly changing, Premium validity expressed in EUR is approximate and presented for reference only.
Support EUC World.
Become a Premium User!
Your donation will not recur automatically. When your Premium Member status ends, you can extend it by making another donation of your choice. You can use Visa, Mastercard or PayPal to support EUC World and become a Premium User. Don't forget to enter email address associated with your EUC World account (or better, sign in). Because part of the payment processing fee is fixed and independent of payment amount, minimum donation is 5 EUR / USD / GBP or 20 PLN. If you have any problems or questions, please contact me.
Your donation will be processed by Dotpay.pl, an
EU-registered payment agent
using secure HTTPS connection and in compliance with latest PCI DSS standards. Dotpay.pl operates on the basis of the Polish Financial Supervision Authority's permit no. IP14/2013 to offer payment services as a Payment Institution within the meaning of the Payment Services Act. Dotpay.pl is supervised by the Polish Financial Supervision Authority. Your name and email will be used for payment processing, with respect to
Terms of Use
and
Privacy Policy
.